Making Money Online With SBI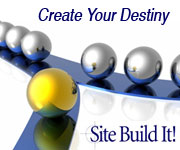 Making money online with SBI
.
Hmmm.
Already sounds scammy, doesn't it?
You should be suspicious.
Too many of us part with our hard earned money each day...hoping to get-rich-quick. We all have bills, families to take care of, college funds to save for and on and on...
Aren't we busy enough as it is? Something quick and easy could do just the trick!
Unfortunately, it doesn't work that way. Like a lot of folks, I've been ripped off. And, frankly, any amount is too much.
I've personally learned building success takes hard work, commitment, motivation and focus.
Sorry.
There are no shortcuts.
Not the legitimate kind anyway.
Ok, I'll step down off my soap box now... :)
My advice is to build income slowly. Step-by-step. That's what "Solo Build It! "SBI!" is about. It's the block-by-block building program that levels the playing field.
Making money online with SBI! allows the average person to build income through content.
Consider What You Don't Need
You don't need to know HTML. I don't.
You don't need to be super smart although brains are required.
You don't need to be a fabulous writer.
You don't need to be technically inclined. I'm not.
All the same...
YOU can build income...over time.
How long depends on your:
motivation
hard work
focus and
choice of niche.
Which brings us to the following...
Do Your Research
I reviewed the work at home moms information. This appealed to me because with my first site, I was a new mom home with my baby. I like the idea of making money online with SBI and from the comfort of home...in my pajamas.
If you're a dad, this information is just as useful to you!
Read the results of other webmasters and see for yourself.
The results are a good indicator along with proof that SBIers succeed...over the long haul. They apply the same principles mentioned above and enjoy success.
Which is why you should...
Determine Your Passion
Whatever it is to you, find your focus. I chose infopublishing. I don't have any hard products to sell so this choice works for me. I have the opportunity, however, to sell information or digital products such as eBooks.
You decide what's right for you.
What are you passionate about?
What drives your interests?
Build from there...
Carefully review the case studies. These are great, real life examples of what others have achieved. This is a terrific way to learn about making money online with SBI! and how it helps every day people achieve financial freedom.
No one can predict your success. But with the right tools you'll increase your odds of making money online.
So consider the...
FREE Information
There's lots of free information about SBI! and you can download the free WAHM masters course. This FREE, work at home booklet explains how its authors are making money online from SBI.
Also download the FREE Make Your Content Presell eBook. This booklet has invaluable information for every webmaster interested in making money online.
Lastly, ask all of your questions. Get the answers you need to make an informed decision.
You can try SBI!'s free trial and get a first hand idea of how it works. And, if you like it and want to give it a go, order it! They offer an iron clad money-back guarantee.
Building a website is not a quick, easy process. It takes time, effort, energy and focus. But over time, you can create something remarkable that really does put money in your pocket at the end of the day.
Update 2011
Below is a screenshot of my earnings for August 2011 from two revenue streams. The numbers are small ($187.39 and $51.74, respectively), but something is better than nothing.
And, over time, those numbers will improve. The total earnings for 2011 was just over $1,600. Not bad for someone who doesn't know much about building websites.
I'm certainly not going to quit my day job with those earnings, but I know I can only improve upon my success.
It takes time to build a business and an online presence.
But, it can be done.
Making money online with SBI is the slow and steady way to build your success.
Making Money Online With SBI Back to Paralegal-Legal-Profession.com